Eurovision Song Contest In Review
Tuesday, May 13, 2014
This weekend just past some of your may or may not know that the Eurovision Song Contest was on! If you don't know what this is, it's basically each May countries across Europe will send someone to sing at the competition to compete against other countries. I have seen so many people comparing it to The Hunger Games, which funnily it kind of is! I've watched it every year since I can remember and I just love the cheesiness of it. This year though, I feel that the cheesiness wasn't so apparent and I love a lot of the songs!
On Saturday night 26 Countries preformed in the Final over in Denmark. Before each act preforms there is a 'postcard*' shown that is meant to relate to each Country. This year the themed was based on photography and with this it meant a Countries ended up doing a wide range of things, from using photographic effects, to photographing things created into the shape of a flag. However, and I'll try not to be biased here, I do feel that one of the best postcards of the night was from Great Britain.
*Sorry I searched for ages trying to find images of the Postcards but could not find any good ones. Try searching YouTube as they will probably be on there
I have to admit I have my fair share of favourites that I'm going to share and link to. I have to admit though, my person top 3 songs didn't score majorly well by not even getting into the top 5 which I was incredibly
First up my absolute favourite from the night was Switzerland. This act was preformed by a group called Seblater and there song was called Hunters of Stars. I loved everything about Malta's performance from the wish listing, to the violin and to especially the lead signer! He had an incredible voice and not bad on the eyes either! This song had a very Mumford and Sons feel to it which is probably why it's one of my favourites too1
The second act I absolutely loved was Malta's entry- Fireflight, who's song was called Coming Home. I'm usually always a fan of Malta and this year didn't disappoint! Similar to Switzerland's entry, they seemed to have jumped on the Mumford&Sons style bandwagon- not complaining though! It's a song I feel that I could listen to over and over again and I feel like this will be making it's way onto my Summer playlist this year!
The last entry that really stood out to me was Denmarks Basim- Cliche Love Song. Contrasting to the others, this group took on the styling of Bruno Mars! I due enjoy Bruno Mars but I feel like this song pushes any of Mar's songs out of the water. It was so infecting with how catchy it was and I found myself singing along after the first Chorus!
Now some honourable mentions! I would imagine even if you didn't know what the Eurovision Song Contest was you would have heard of the winner
Conchita from Austria
. I would also imagine you would have heard of the outstanding entries including
Polands
,
Iceland
,
Belarus
and
Russia
. Although all these acts are completely different it wasn't a surprise that they all seemed to gather some type of attention around them where it was to do with appearance, lyrics or political reasons. I was also in love with
The Netherlands
and
Sweden's
entry as their songs were beautiful. I, of course, have to mention my own Countries entry that was
Molly
! Even though we didn't do fantastically great on the leader board, for Great Britain she did amazing!
The last thing I will leave you with was probably the highlight of my night while watching. And this was to do with Graham Norton! Since Terry Wogan left a few years ago, Norton took over and he is just as fabulous! This year was no exception apart from I think he was slightly more sarcastic. But that's not the one reason I loved him this year. It was to do with the fact he got a little surprise during the interval! Watch
here
to understand what I mean. I understand it's not a brilliant video but you get the jist!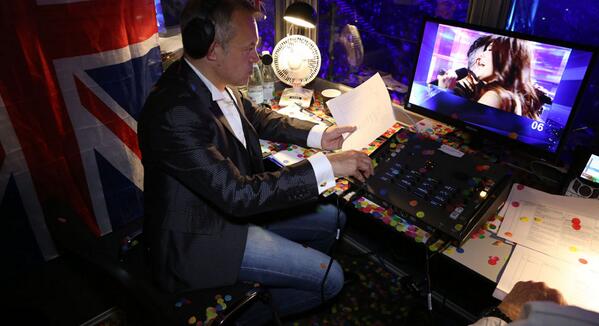 Well overall that's my highlights from this years ESC! I'm looking forward to next years in Austria. Let me know below if you have ever watched Eurovision before and even better if you watched it this year! Also let me know what your favourites acts are too!